Set up MailChimp + Genesis eNews Extended
The first thing you need to do is download and install the Genesis eNews Extended plugin. You can do this one of two ways... click here and download it onto your computer or Plugins > Add New >Search Plugins enter the name of the plugin, then click install. Voilà
Now let's get techy, Mailchimp has merge tags that they use so we're going to enter them into our enews widget like so.
example:
EMAIL = EMAIL
FIRST NAME = FNAME
LAST NAME = LNAME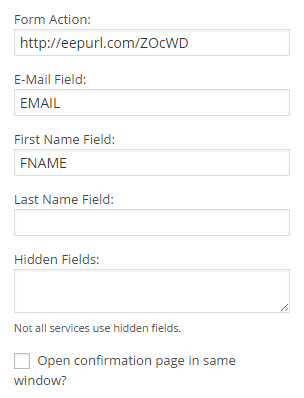 Now let's make it all fancy with words and stuff.
In my example, above you can see I have everything already filled out but only certain areas pop up on the front end. Let's go back to merge tags, I've only entered for the first name and email address so that is all that will be collected. So in the second step you want to enter what you want it to say for your new readers.
Where to find your Form Action: Log right into your MailChimp account, and click on list. From there you'll select Sign up Forms in the menu. Then you'll be given 3 options we want Embedded Forms. Create a simple form, then copy & paste into your notepad.
From your notepad look for < form
<form action="//riotcustoms.us8.list-manage.com/subscribe/post?u=0f8c8368d84ad431badd3385b&id=3fdade9370" method="post" id="mc-embedded-subscribe-form" name="mc-embedded-subscribe-form" class="validate" target="_blank" novalidate>
Then you've fond you action link
//riotcustoms.us8.list-manage.com/subscribe/post?u=0f8c8368d84ad431badd3385b&id=3fdade9370